A Dummy's Guide  –  Using Microsoft Sharepoint as a user to access, read and write Word and Excel Documents to/from the cloud.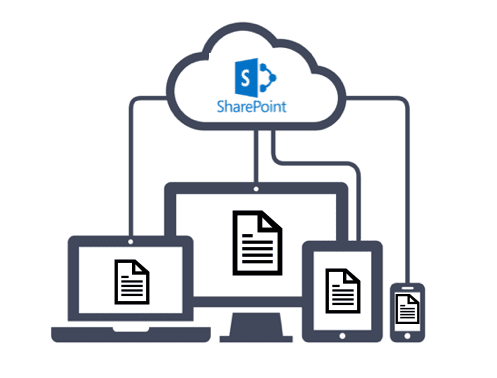 Microsoft SharePoint and Microsoft OneDrive are both online (Cloud) storage programs provided by Microsoft as part of the Office package. Every Microsoft office user is given 1TB or FREE cloud storage to be used in OneDrive or SharePoint.
What is the difference between OneDrive and SharePoint?
"OneDrive" is used mainly for personal and draft documents and only the user has access to documents stored on there unless the user specifically "shares" the document with someone else.
"SharePoint" is used mainly for storage of files that are to be shared with other staff/team members. Sharing and permissions to access is controlled by the SharePoint administrator.
SharePoint is only available in Business Versions of Microsoft Office 365 (Business, Business Essentials, Business Premium, Enterprise E1, E3, E5, SharePoint Plan 1 and 2)
However, the Windows program used to access both is actually called "OneDrive" and can be found from the start menu or by clicking on the "little-blue-cloud" found on the taskbar at the bottom right of a Windows 10 computer.
Full details can be found here
Dummys-Guide-to-Sharepoint.docx
For our rates, charges and terms, please contact us.
HYBRID ICT are a Microsoft Silver Small and Mid-market Cloud Solutions Partner and Apple Consultant Network Partner
Corporate Cloud Services -> Cloud Computing
Corporate Cloud Services -> Cloud Computing -> Public Cloud
Corporate Cloud Services -> Cloud Computing -> Private Cloud
Corporate Cloud Services -> Cloud Computing -> Hybrid Cloud
Corporate Cloud Services -> Cloud Computing -> Azure
Corporate Cloud Services -> Cloud Computing -> Why move to the cloud?
Corporate Cloud Services -> Office 365, Setup, Support, Fix
Corporate Cloud Services -> Office 365 Secure Cloud Based Email
Corporate Cloud Services -> Office 365 Email Migration Services
Corporate Cloud Services -> Cloud Data Storage
Corporate Cloud Services -> Cloud Data Migration Services
Corporate Cloud Services -> Cloud Backup and Data Recovery Services