Hybrid ICT deal with many forms of cloud data storage, some you may already be using without being aware of the fact.
Microsoft OneDrive, Apple iCloud, Google Drive, Dropbox are all examples of Cloud Data Storage, usually for personal use.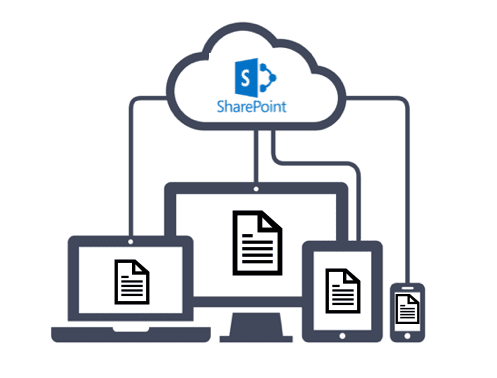 There are many business grade cloud storage facilities available such as:
Private cloud storage on your own private-cloud (cloud-based server)
Public cloud based co-located server using programs such as

Dropbox for Business
S3 from Amazon
iDrive
pCloud
Mega
Box
NextCloud
Microsoft OneDrive, SharePoint and Azure
All the above are paid services on a monthly or annual subscription.
Microsoft has by far the largest cloud-storage client base with a claimed 50% of all worldwide major corporations including the vast majority of the Fortune 500 companies.
Office 365 Business Licences include SharePoint which is the Microsoft cloud company file storage product that businesses should use rather than OneDrive which is for personal use.
Microsoft offer 1TB** of cloud storage with most Microsoft Office 365 subscription* without the need to pay any further cloud storage fees.
Some Office 365 subscriptions offer unlimited cloud storage.**
Microsoft Office 365 Cloud storage can be utilised by:
• Microsoft OneDrive or (OneDrive for Business – formerly SkyDrive)
• Microsoft SharePoint
Data, backup and program files can also be stored in the cloud using Microsoft Azure
Why three products, what is the difference between OneDrive, Sharepoint and Azure
Microsoft users have the choice of storing data in OneDrive, SharePoint or both or on an Azure cloud server.
In short
Use Microsoft OneDrive (if running Office 365) for personal or for drafts and working documents.
Use Microsoft SharePoint (if running Office 365) for documents that will be shared amongst people in your organization.
Use Microsoft Azure for SQL, Database, Program and data files (other than Office documents)
The following offers a more detailed explanation.
When to save documents to OneDrive
You don't plan to share them.
Documents you place in OneDrive for are private until you share them. This makes OneDrive your best option for draft documents or personal documents that no one else needs to see.
You plan to share files individually and with a limited scope or lifecycle. For example, you're writing a blog post that may not be associated with a project, and you'd like a few colleagues to review it before you post it. In this case, you expect people to use the document once without needing additional storage or context information. All they need is a link to the document and editing permission.
You can't identify an existing team site where your document belongs, and you don't think the purpose of the document warrants creating a new one.
When to save documents to SharePoint
You want team members to recognize the document as being relevant to an ongoing project.
You want to spread ownership and permissions across a wider collection of people. If a document is important to the success of a project, it's a good idea for there to be people other than yourself who can control what happens on the site.
You want permissions to be granted on a site basis, instead of on individual documents. If people have access to the team site, then they have access to documents stored in the site.
Other project-related documents are already saved to the team site library, and others expect to find it there.
See Also https://support.office.com/en-us/article/should-i-save-my-documents-to-onedrive-for-business-or-a-team-site-d18d21a0-1f9f-4f6c-ac45-d52afa0a4a2e
*Note this does not include SharePoint Online kiosk plans including Office 365 F1 and Microsoft 365 F1.
**Calculating total Storage Allowance per Organisation or Tenant
Although each Office 365 individual user licence offers 1TB storage per person, combining licences over an organization (tenant) gives an overall storage allowance calculated as follow:
1 TB plus 10 GB per user license purchased.
Example scenarios of increased storage allocation
100 user licenses = Total tenant allocation of 2TB
5000 user licenses = Total tenant allocation of 51TB
100,000 user licenses = Total tenant allocation of 1001TB
https://techcommunity.microsoft.com/t5/Microsoft-SharePoint-Blog/Increase-in-SharePoint-Online-storage-allocation/ba-p/187617
To purchase unlimited OneDrive/SharePoint Cloud Storage, purchase a OneDrive Plan2, Office Enterprise E3 or Office Enterprise E1 license.
For our rates, charges and terms, please contact us.
HYBRID ICT are a Microsoft Silver Small and Mid-market Cloud Solutions Partner and Apple Consultant Network Partner
Corporate Cloud Services -> Cloud Computing
Corporate Cloud Services -> Cloud Computing -> Public Cloud
Corporate Cloud Services -> Cloud Computing -> Private Cloud
Corporate Cloud Services -> Cloud Computing -> Hybrid Cloud
Corporate Cloud Services -> Cloud Computing -> Azure
Corporate Cloud Services -> Office 365, Setup, Support, Fix
Corporate Cloud Services -> Office 365 Secure Cloud Based Email
Corporate Cloud Services -> Office 365 Email Migration Services
Corporate Cloud Services -> Cloud Data Storage
Corporate Cloud Services -> Cloud Data Migration Services
Corporate Cloud Services -> Cloud Backup and Data Recovery Services