Public clouds are owned and operated by a third-party cloud service providers, which deliver their computing resources like servers and storage over the Internet.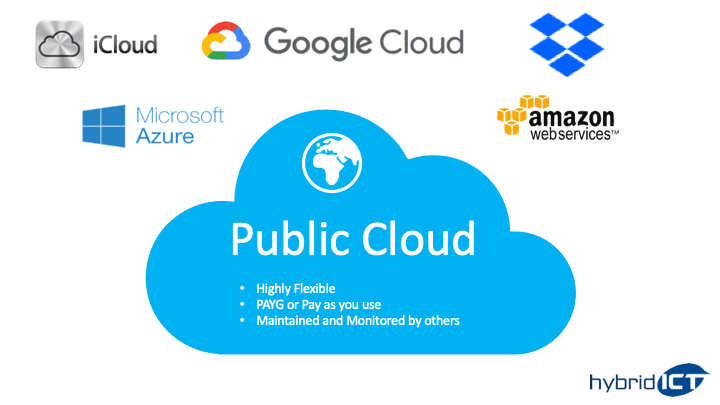 Microsoft Azure is an example of a public cloud provider. With a public cloud, all hardware, software, and other supporting infrastructure is owned and managed by the cloud provider. You access these services and manage your account using a web browser.
A public cloud is where an independent, third-party provider, such as Amazon Web Services (AWS) or Microsoft Azure, owns and maintains compute resources that customers can access over the internet. Public cloud users share these resources, a model known as a multi-tenant environment.
Amazon Web Services (AWS) are another leading provider of public cloud services.
Organizations all over the world recognise Microsoft Azure over Amazon Web Services (AWS) as the most trusted cloud for enterprise and hybrid infrastructure. AWS is 5 times more expensive than Azure for Windows Server and SQL Server.
More than 95 percent of Fortune 500 companies use Microsoft Azure. Businesses and organisations around the world—small and large, old and new—rely on Microsoft Azure to provide trusted cloud services.
HYBRID ICT can also supply Private Cloud solutions using clients own data centre or an HYBRID ICT Data Centre.
For our rates, charges and terms, please contact us.
HYBRID ICT are a Microsoft Silver Small and Mid-market Cloud Solutions Partner and Apple Consultant Network Partner
Corporate Cloud Services -> Cloud Computing
Corporate Cloud Services -> Cloud Computing -> Public Cloud
Corporate Cloud Services -> Cloud Computing -> Private Cloud
Corporate Cloud Services -> Cloud Computing -> Hybrid Cloud
Corporate Cloud Services -> Cloud Computing -> Azure
Corporate Cloud Services -> Office 365, Setup, Support, Fix
Corporate Cloud Services -> Office 365 Secure Cloud Based Email
Corporate Cloud Services -> Office 365 Email Migration Services
Corporate Cloud Services -> Cloud Data Storage
Corporate Cloud Services -> Cloud Data Migration Services
Corporate Cloud Services -> Cloud Backup and Data Recovery Services