Is your business properly listed on Google, Bing and Apple? If not you could be missing out on business opportunities.
If you want customer to find your business using the internet you need to be listed on the two main Search Engines and the three main mapping and navigation sites.
Google (Search and Maps)
Binge (Search and Maps)
Apple (Maps)
Google dominates internet search with around 60% of all searches but has been losing a little bit of ground to Microsoft's Bing recently due to Bing being the default search engine on Windows 10 devices.
Bing, Yahoo and the rest make up the other 40% of all internet searches.
Bing Maps are also a default on Windows 10 devices whereas Google Maps has dominated Map searches for some time but with Apple Maps being the default on all Apple devices and computers
For Google Search and Google Maps use Google my Business
For Bing Search and Bing Maps use Bing Places For Business
To verify your business location, you will be sent out a postcard by snail-mail containing a verification code. Your full listing may not become live until you have entered the verification code off the postcard. And don't be impatient, the postcard could take 1 to 4 weeks to arrive.
What about Apple Maps?
If you use an Apple iPhone, iDevice, Computer or the Siri personal assistant you may not have realised it but they default to using Apple Maps for navigation and search results. Just because your company is listed on Google and Bing does not mean it shows up on Apple Maps.
Apple Maps takes information from a number of sources including "Yelp" but the only sure way to ensure Apple users find you, is to add your own company by going to
https://mapsconnect.apple.com/
… and sign in with an Apple ID.
Follow the prompts and confirm your location and within a short time, your business will appear on Apple Maps and Siri.
Can people find your business? Is your business listed properly online? An example.
I searched for "Hairdressers" in my current location (Mosman Park, WA)
Using Google, Bing and Apple searches and maps on an iPhone, Android Phone and Computer produced 6 very different results as shown in the following screenshot collage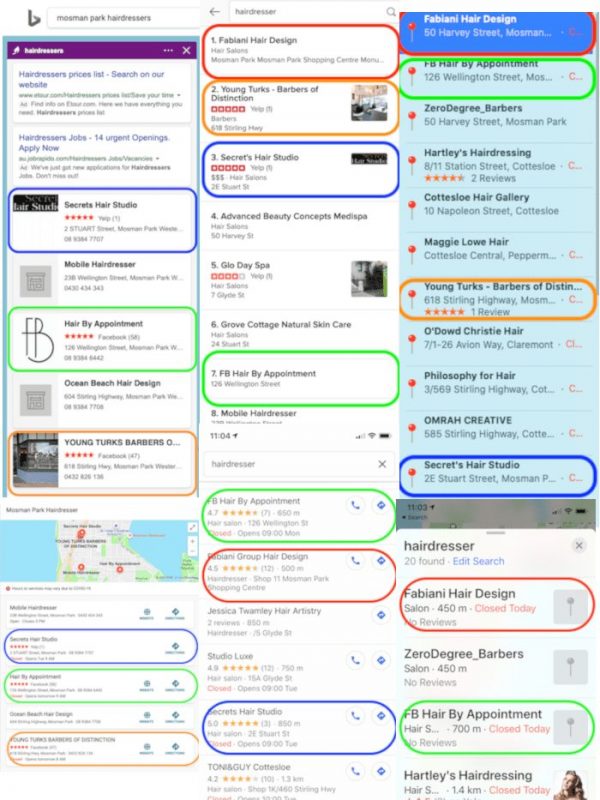 Only one local hairdresser appeared in 5/6 searches. Some appeared in one or two devices and browsers but none appeared in all searches. Clearly some companies have been putting more effort into their promotion than others.
What many businesses fail to realise is that Apple iPhones, iPad's and Apples AI assistant Siri, all use "Apple-Maps" for their searches and results rather than the more popular "Google-Maps".
Apple search results are also influenced by listings and reviews from "Yelp" a search engine many of you would never have heard of.
How much traffic is your website receiving and what search terms are customers using to find you?
Do you know how to setup and monitor the traffic to your website?
Do you know what "search-terms" user use to find your website or the pages they land on? Only by listing and integrating your site with Google Webmaster and Bing Webmaster, Search and Analytics can you get an accurate picture.
Designing a website is one thing. Getting traffic to it is another. Web designers are great at putting together a flashy website but are usually clue-less when it comes to implementing and setting up the tools to monitor the website and the basic SEO steps required to make sure it gets indexed by the search engines.
The following is a list of steps that we at Hybrid ICT implement when we get asked to optimise a website. Our full SEO checklist is as follows and takes approximately 4 hours to complete but all the tools and services are FREE to use.
11 tasks required to fully optimise a website to ensure they are properly indexed and registered with the top 3 major search and mapping sites.
Check and optimise Web Page SEO Titles, Meta Description and Meta Tags
Identify key search terms and tags and optimise website for those terms
Add Sitemap, RSS and Sitemap.xml to website
Register for Google My Business
Register in Bing places for Business
Register in Google Maps
Register in Bing Maps
Register Apple Maps
Setup Google Analytics
Setup Google Webmaster Tools (Search)
Setup Bing Webmaster Tools
Optional
Setup Social Media pages for your Business on Facebook, Twitter, Linkedin, Yelp etc.
Claim and complete your FREE Yellow Pages listing
Once the above has been done, it can take up to 4 weeks to see results as Bing and Google only reindex (revisit) sites every 4 weeks
The website needs to be checked and examine at least quarterly to look for errors, identify the traffic you are or are not getting and to then make changes to get more or more relevant traffic in the future.
Making and keeping your website near the top of the search listings is not a set-and-forget operation.
Unless you keep adding content in the form of new pages, blog-posts, news articles, images and tags, your "organic" (free or none ppc) search listing popularity will die or not even get off the ground.
Posting articles, pictures or news items to Facebook, Twitter or Instagram etc will NOT provide any web traffic unless it links back to content on your website.
If you have interesting news, articles, tips etc. to publish, firstly add the information to your website and then link that content to your social media posts.
If you don't want to put in the effort to keep refreshing content, the only way of getting relevant traffic to your site is to pay for it by using a PPC (Pay-Per-Click) advertiser such as Google or Bing.
Contact us to learn more.
Hybrid ICT have been providing outsourced IT support services for small and medium sized businesses in Perth and Western Australian since 2013. We also provide local, onsite, call-out services in support of interstate and international managed IT services companies and corporate IT departments who require local representation on a break-fix or contract basis.
Hybrid ICT (info Tech Guys Pty Ltd) are located in Subiaco, 5 minutes from the Perth CBD and the West Perth business district. With a strong focus on small to medium sized businesses, we provide around the clock IT support to businesses with up to 100 staff running Microsoft, Apple, Linux and Hybrid IT infrastructure.
Website Hosting & Internet Marketing -> Website Hosting, Support, Fixes
Website Hosting & Internet Marketing -> Internet Marketing – Google Adwords
Website Hosting & Internet Marketing -> Domain Names