Why would we want to move our server, data and programs to the cloud?
Q – Our current networked solution has served our company well for years, why should we change it now?
If your computing systems are not currently in the cloud, you are most likely to be adopting a traditional client-server networking solution such as the following: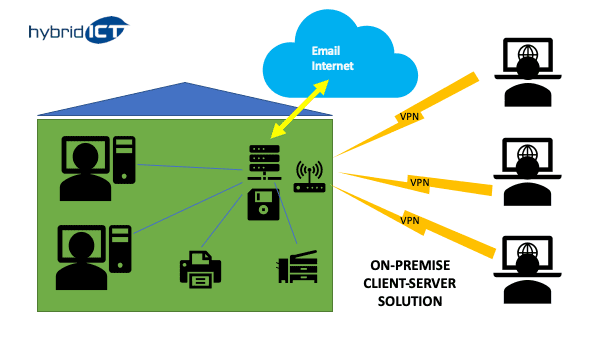 This scenario assumes "in-office" or "on-premise" users connecting to a central (on premise) server using hard-wired ethernet or Wi-Fi networking with field or home based users connecting to the office server over a VPN (Virtual Private Network) connections via modems and the internet.
This solution has been the main-stay for the majority of companies for many years and goes back to the days when each office had a Server for E-mail (Microsoft Exchange), Programs (Accounting ie MYOB, Databases etc) and Data Storage and to use those programs meant "logging-in" to the server from a workstation or PC.
Software vendors (such as MYOB) had to rely on thousands of customers correctly installing and updating their software on each clients server, which often meant customers would have to employ a "Network-Administrator" or a third-party company to administer their server and the programs on it.
In addition to installing and maintaining the programs on the company server, the server itself had to be maintained with "hardware" (Disk Drives, Power Supplies etc) and "software" (Operating Systems, Programs etc) needing regular attention, patching, upgrading and replacing every few years.
| | |
| --- | --- |
| Advantages of on-premise client-server solution | Disadvantages of on-premise client-server solution |
| Tried and tested over many years | Server needs full-time or part-time monitoring by in-house administrator or 3rd-party company |
| Does not need high speed fibre connection. | Server Software needs to be expertly installed and maintained by in-house staff or vendor |
| Will continue to work on premise even when internet is down. | Server Hardware needs partially or totally replacing every 5 years or risk using outside manufacturers warranty |
| | Server Operating System (OS) needs to be replaced every 10 years or so. |
| | Regular backing up of server data and programs required to onsite and offsite source in case of Ransomware attack or hacking. |
| | Restoring Server from backups can take days depending on amount of data, source and size of backup, meaning considerable disruption to business. |
Many companies with fast fibre or NBN Internet may already have moved their servers, storage and programs fully to the cloud using a "Public" or "Private" Cloud Solution.
There are considerable advantages and cost savings to be made by removing the need for an on-premise (internal) server and move servers, data and programs to a Private Cloud (Servers located in a companies own secure data centre) or Public Cloud (Microsoft Azure, Amazon Web Services etc) facility.
However, in order to achieve this, a fast and reliable internet connection is required., ideally using dedicated Fibre or FTTP NBN of at least 40/40 (40 mbps download and 40 mbps upload) although 100/100, 250/250 or 500/500 or fast is preferable.
| | |
| --- | --- |
| Advantages of Public/Private Cloud solution | Disadvantages of of Public/Private Cloud solution |
| No need for a physical office, users can easily work from home with the same functionality as being in the office | If your internet is down, you cannot access your data or emails |
| No need for a Server or UPS | You have to rely on the security systems put in place by your data center or the Public Cloud provider |
| No need for specialist Network Administration help. | For Private Cloud facilities you may need to own and maintain your own equipment |
| Backups between cloud providers is very quick and safe | |
| No upfront capital expense required if using a Public Cloud Provider | |
| | |
Some of your computing services may already be cloud based and some being server based, a combination of old and new technologies such as in an Hybrid Cloud Environment.
Without knowing it, you may already be using a degree of cloud computer services. Dropbox, Google Drive, SharePoint, OneDrive, Hosted Exchange, Adobe Cloud, Xero are all services that currently use Cloud Computing.
However, the ideal setup is to use a Hybrid-Cloud-Solution which incorporates Cloud Based Computing, in combination with a small on-premise server to give you the best of both worlds.
Corporate Cloud Services -> Cloud Computing
Corporate Cloud Services -> Cloud Computing -> Public Cloud
Corporate Cloud Services -> Cloud Computing -> Private Cloud
Corporate Cloud Services -> Cloud Computing -> Hybrid Cloud
Corporate Cloud Services -> Cloud Computing -> Azure
Corporate Cloud Services -> Cloud Computing -> Why move to the cloud?