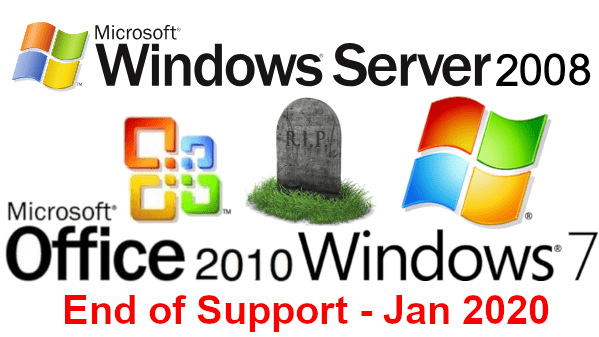 Businesses Beware !! You need to upgrade or replace the following, before January 2020
– Microsoft Windows 7 Operating System*
– Microsoft Office 2010
– Microsoft Server 2008
*unless a corporation or enterprise client and willing to pay to end support.
Business customers around the world are required to replace 3 pieces of software that their business may have been relying on for the last 9 or 10 years as they reach end-of-support in January 2020.
Windows 7 has been around since 2009, it has become the mainstay of many business computer users.
Many businesses rely on computer software that will ONLY work on Windows 7 (Accounting, Invoicing, Stock Control software etc).
Before considering any of the following upgrade options, complete an audit of your computers and servers and identify your critical applications.
Check with the software manufacturer, if your critical applications run on Windows 10 and if so, what is required to make them do so.
Hybrid ICT are available to assist you in upgrading critical software products should you requires some technical assistance.
If your critical software cannot be upgraded to run natively on Windows 10, there are a number of ways that you can still run programs in Windows 7 even though computers are running Windows 10.
Contact us for details and a price estimate.
Upgrade Options – Windows 7 to Windows 10
The free Windows 10 upgrade offer ended quite some time ago for the general public, However, Microsoft partners (Such as Hybrid ICT) still have the resources to upgrade some computers to Windows 10 at no cost:
Upgrade options from Windows 7 to Windows 10 are as follows:
Upgrade Windows 7 Pro to Windows 10 Pro for compatible computers.
Purchase new computers with Windows 10 Pro preinstalled
Subscribe to Microsoft 365 Business and get a FREE upgrade to Windows 10 Pro, Office 365 and Exchange Online mailbox.
Contact Hybrid ICT for a quote on the above.
Upgrade Options – Office 2010 to Office 365 or Office 2019
Microsoft Office includes a suite of programs including Microsoft Word, Microsoft Excel and Microsoft PowerPoint as standard with some versions including one or more of the following programs: Microsoft Outlook, Microsoft Publisher, Microsoft OneNote, Microsoft Access, Microsoft Exchange, Microsoft Teams, Skype, Entourage etc.
Currently support versions of Microsoft Office are:
• Microsoft Office 2019 (Runs on Windows 10 only)
• Microsoft Office 365 (All versions, runs on Windows and Mac operating systems)
Contact Hybrid ICT for a quote on the above.
Upgrade Windows Server 2008
Upgrading an old server may not be economical, the options available including the purchase of a new server, replacing the server with a NAS drive or moving data and functionality to the cloud. Contact Us to arrange a consultation and a site audit.
Contact Hybrid ICT for a quote on the above.